The Mortal Instruments: City of Bones
Talk

0
355pages on
this wiki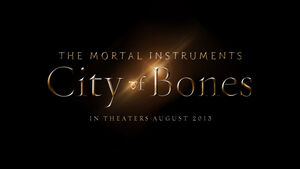 The Mortal Instruments: City of Bones is an upcoming movie adaptation of the novel, City of Bones by Cassandra Clare, set to be released on August 23, 2013. It stars Lily Collins as the main character, Clary Fray, and Jamie Campbell Bower as Jace Wayland.
Clary Fray (Lily Collins) is an ordinary Brooklyn teenager until the night she meets the mysteriously tattooed Jace (Jamie Campbell Bower), who turns out to be a half-angel warrior known as a Shadowhunter. When Clary finds out her mother Jocelyn (Lena Headey) has been abducted, she desperately hopes Jace will be able to help. After a whirling golden portal transports her across time and space in a heartbeat, Clary realizes she too has the powers of the Shadowhunters. But can she harness them in time to save her mother?
Clary, Jace and their fellow Shadowhunters endure one breathtaking battle after another against vampire, warlocks and demons—only to discover Jocelyn hid a terrible secret from the fiercest warrior of all: Valentine (Jonathan Rhys Meyers). Cast out from the world of Shadowhunters, Valentine abducted Jocelyn believing she had a powerful tool known as the Mortal Cup. Using her newfound gifts, Clary finds the Cup, only to be brutally betrayed and forced to relinquish it.
Still reeling from this setback and racing to save Jocelyn before it's too late, Clary finds herself caught in a battle between forces she barely understands. Based on the best-selling series by Cassandra Clare, The Mortal Instruments: City of Bones is a magnificent urban fantasy rich in detail and suspense, about a girl's journey to the darkest corners of the underworld to save those she loves.
Production
Edit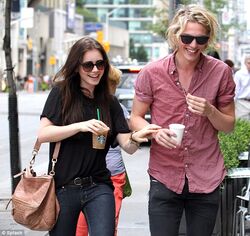 On August 22, 2009, Cassandra Clare announced at a book signing in New York City that The Mortal Instruments would be adapted into a film series. On June 10, 2010, Screen Gems announced that they were going into production on a Mortal Instruments film, based on City of Bones, with a script written by Jessica Postigo. It was initially announced that Scott Stewart will be directing but was eventually replaced by Harald Zwart when Constantin Film and Unique Pictures took over production. On December 10, 2010, it was officially announced that Lily Collins had been cast as Clary Fray.
Alex Pettyfer, a fan favorite, was offered the part of Jace Wayland. Though he is said to be an avid fan of the books and strongly desired to take on the role, he eventually decided not to take on any more film adaptions based on young adult series, leaving the character of Jace uncast. Then on May 31, 2011, after much speculation as to who would play the story's leading man, it was officially announced that Jamie Campbell Bower would ultimately portray Jace Wayland. Other cast members were also announced by Cassandra Clare on her Tumblr page.
On April 3, 2012, ScreenRant revealed that Sony Pictures set the release date of The Mortal Instruments: City of Bones for August 23, 2013.
Filming began in Toronto on August 20, 2012, and some scenes were also shot in New York City.
Featurettes
Edit
Official Images
Edit
Behind the Scenes
Edit